Gnome Family Portriat
Meet the family.....There I am sitting atop one of our prized 'shrooms. Yea, we have our problems, like all families do, what with my sister living in the Pixie district, and my brother being involved in a Wizard Gang drive-by spell casting incident 2 years ago, but I still love 'em!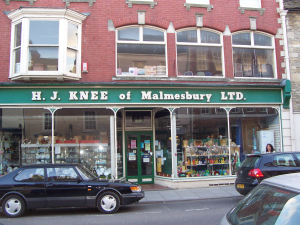 H.J. Knee, of Malmesbury, Ltd.
This is where I was living when Sue found me in Malmesbury. I stood on the top shelf for what seemd like eons, alongside a wooden bunny rabbit, a lovely porcelin dish and another gnome. When the shopkeepers were around, we all behaved ourselves, but once the lights went out and the doors were locked up tight, the party got started! That old gnome could play some mean guitar riffs and the rabbit, well was more into Hip-Hop ;-)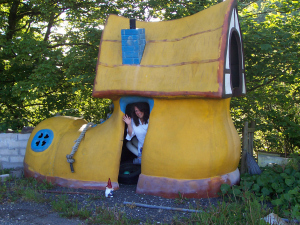 Welcome Home!
... to my lovely abode! I was extremely fortunate to have this home designed by the talented American architect, Frank Lloyd Wright. Some of you might recall his famous buildings and homes incorporating the elements of natural environs into his designs. My home in particular was modeled after his favorite gardening boots.